Present in the territory from almost 20 years, the cultural association "Pro Loco" San Donato in Poggio has always done promotion and enhancement of the village. It was born officially on 1982 by the will of a group of people interested in continuing folkloristic traditions of the village of San Donato in Poggio, place made famous in Chianti for "la Bruscellata".
 This festival took place on the last week pf june, every year, and it had as its climax the recitation of verses sung in of famous works (like Pia de' Tolomei) in Toscan Vernacular, set in the context of the medieval Old Town. In the last day of the festival there was il Palio dei ciuchi (grabs donkey), funny race and parody of the near Sienese grabs, as well as challenge deeply felt from the inhabitants of San Donato in Poggio divided in their respective districts. The week of the festival offered to the visitor a lot of things : painting, embroidery, local crafts exhibitions, a food stand always open, the costume parade of bridesmaids and couples of different districts in the Renaissance setting and the long-awaited grabs. The group of people of Proloco worked very hard also with the help of illustrious professors from the University of Florence to drawing up and for teh publication of three works on tha medieval history of the village.
Finished the goliardic festival " Bruscellata" , the Pro Loco sought to continue to offer the same spirit promoting the "Fierucole della polvere", "il Borgo incantato", the gastronomic festival " Di cinta in cinta" in which we can taste and buy products of "Cinta senese, and musical evenings. Tought this events have a duration of one or maximum two days , is not overlooked care of particular: collectors, craftsmen, painters, torches through the streets, sometimes a small gastronomic stand, and small group os musician animate the Old Town.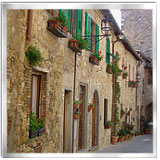 In 2001 the Pro Loco, under the auspices of Municipality of Tavarnelle Val di Pesa, has inaugurated the museum "Emilio Ferrari" of farming culture (for more information look the page relative to M.E.F). The Pro Loco now is an organism who try to strenghthem his means to mantain the memory of some folkoristic events and both to promoting the territory, enhancing the culture, crafts and gastronomic traditions. We trust in a real support of idea and creative initiatives by all those who want to be part of this association.