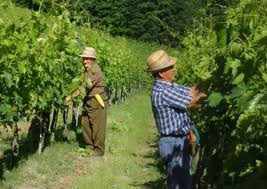 Grape harvest:
Grape harvest is one of the most important agrcultural event in Tuscany and in San Donato which is located in the heart of Chianti.
October usually is the month of grape harvest even if lately it starts from September because, for various reasons, in the past few years the grape has been ripening in advance.
The harvest is still done by hand but the number of wineries, mostly the bigger ones, to use harvesters is increasing.
Olive harvest:
the olive harvest is from November to all December and, just like grape harvest, is an old farming tradition.
The olives are harvested by hand with the help of small rakes or with other appropriate machinery. However industrial bulky machinery for mechanical harvesting can not be used in our olive groves.